How would you like to win a
$10 PU coupon
to any of my stores?
You can.
PSP Blog Hop is here again!!!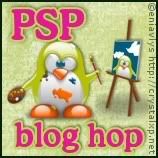 I decided to join in on the
PSP Community Blog Hop
last May, and loved it!
This is a huge community-wide blog hop event created for the PSP Community, with a ton of prizes you can win.
Sponsors such as myself have offered up prizes for you to win.
You just have to fill out the Prize Entry Form, then check out all the prizes offered by the Sponsors, click on their links, and follow what they require to enter to win that prize.
My prize is a $10 coupon to any of my PU stores.
This time, they made things much easier for you:
Just go to the
HERE
and follow the instructions!
You MUST submit your information until 11:59 p.m. October 17, 2011 (eastern standard time) - just look for the official time clock in the sidebar.
Everyone is allowed to enter to win prizes!!! Sponsors can sign up to win prizes from other sponsors - artists can sign up to win prizes from other artists - everyone can win!
Good luck!!! :)

Until the Myst returns
stay safe
laugh much
and know you're loved!